Day two out of our 12 Days of Sail-mas is the second largest of the Ionian Islands, the wonderful Corfu! One of the most visited spots in the Mediterranean, this island knows how to be an excellent host to its visitors. Overflowing with incredible food, whites and beaches and some fascinating historical sites to visit – Corfu is a must-sees spot for your next summer!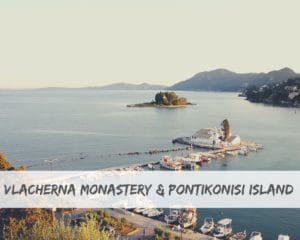 Like most cities dotted around the Mediterranean, Corfu has a vibrant Old Town just waiting to be explored! However, what makes Corfu unique in this regard is that the entirety of their Old Town is protected as a UNESCO World Heritage Site, meaning you and your sailing crew can spend a day getting lost in amazingly well preserved cobblestone streets and archways that date back to the 8th Century. Whilst it's easy to spend a day enjoying the cafes, shops and tavernas that now inhabit the Old Town streets and squares, there's even more history to be discovered a short distance away. The Vlacherna Monastery sits on a promenade in the bay to the south of the village of Kanoni, roughly 5km south of Corfu Town. The promenade stretches out into the crystal clear ocean that surrounds Corfu and provides one of the best photo opportunity spots on the island. From the monastery you can get excellent views of the bay and surrounding islands, it's also a great vantage point for planes landing in Corfu's airport. The monastery itself is a small traditional building that oozes Mediterranean historic charm and is a great way to get a feel for the religious history of the island. The monastery doesn't take a great deal of time to explore, but from here you can get a short boat trip over to the secluded Pontikonisi Island for just €5. This is a great spot for a lunchtime or afternoon picnic amongst the lush greenery that makes this island stand out as a spot of thriving greenery in the middle of the azure sea! 
When you're ready to cool down, Corfu has no shortage of amazing beaches, all with their own unique perks so you'll be able to find somewhere that fits your group perfectly! The long-stretching sand dunes of Halikounas beach divide the stunning Lake Korission from the Ionian Sea, meaning you'll be surrounded by beautiful water views on both sides and there's even a kitesurfing school for the thrill seeking travellers amongst you! If you're travelling with children, Kalamaki is a stunning sandy beach that remains shallow for some distance meaning it's perfect for little ones wanting to play, there's also a beach bar for the adults! If you're after a spot that encapsulates swimming, cliff diving, dining, and incredible views then look no further than La Grotta Beach! There are 144 steps down to the waters edge, but it is well worth the effort and its secluded nature means you'll escape the big crowds. Go for a swim in the clear calm waters and then relax with a beer and bite to eat from the waterside restaurant. You'll be entertained for hours watching people dive from the tall cliffs that surround La Grotta and give it a wonderfully secluded feel.
As the sun begins to set on Corfu, your experience of the island is far from over! Whether you're after award winning cuisine, waterfront views, traditional cooking, or a fun atmosphere – you'll be able to find it here. Rodostamo Restaurant is located in Kommeno Bay to the north of Corfu Town and is widely regarded as one of the best places to eat on the island. The combination of incredible food, excellent wines, and a warm atmosphere created by the friendly staff has made Rodostamo a hit with returning travellers who swear by this glamorous location for a luxury dining out experience! Whilst Rodostamo's location is beautiful, if you believe you can't beat sitting right on the water then Kohyli Bay is the spot for you. Here you'll be able to spend an evening enjoying locally caught seafood as you watch the sun disappear over the horizon of the Ionian Sea. If a secluded, family-run taverna sounds like your idea of a heaven then head to George & Elena's Taverna for a a heartfelt, traditional dining experience that will make you feel like part of the family. If you've enjoyed dinner but you're not quite ready to put the night to rest yet, then Barocco Beach Bar is calling your name! Enjoy wines, beers, and a range of cocktails right on the beach.
It's no wonder Corfu is one of the most visited Greek Islands – the perfect mix of adventure and relaxation means you and your group can tailor your time on this island to whatever it is you're after. You can start planning your very own summer sailing trip HERE and make Corfu just one stop of many stunning locations on your charter!