The Greek Dodecanese complex is known as one of the best island-hopping locations for a sailing charter holiday! Made up of exciting larger islands and some peaceful stop-offs in between, this part of the world has something to suit every traveller!
You can read our first instalment here where we explored the vibrant island of Kos, the relaxing town of Lakki on the coast of the island of Leros and the historic island of Levitha. This time, we'll be looking at the white sand oasis of Lipsi, the buzzing Patmos and the secluded Marathos.
The tiny, idyllic island of Lipsi is a must-see for any Greek island hopping sailing holiday! This oasis of white sandy beaches and azure Aegean Seawater has only one town and main harbour, meaning you will be able to relax, feeling as though you have truly escaped civilisation. You'll find excellent hiking trails, the stunning Monastery of St. John, great swimming and snorkelling conditions and beautiful beaches to relax on. Once you're ready to unwind for the evening, you'll find quaint market shops and traditional tavernas –  Lipsi is the perfect location to get a taste of old fashioned Greek island life.
From Lipsi, you can sail back to reality to the thriving Skala Harbour on the historic island of Patmos. As you approach, you will be greeted by a tapestry of whitewashed houses, interspersed with flowered courtyards, delicious tavernas and colourful shops. Dedicated as the "Holy Island" by the Greek Parliament in 1981, Patmos is a great spot for travelling history buffs as you can take time to explore churches that house manuscripts and artefacts dating back to the 11th century. This is the island where St. John wrote the Biblical book of Revelation and is also the site of Roman exile due to its rugged and steep terrain – Patmos is widely regarded as a deeply significant location in religious history. After a day of exploring, retire in the sun-kissed evening for traditional Greek cuisine and drinks in one of the many tavernas and then take a stroll along the harbour back to your sailboat.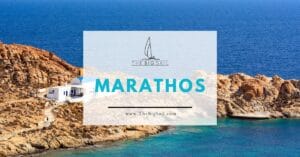 To the east of Patmos, you will find the tiny secluded island of Marathos. This small yet beautiful location is a chance to get back to the Greek Islands' natural beauty. This stop-off is a perfect spot for nature walks, swimming, snorkelling and sunbathing. With very few amenities on the island, this is a great opportunity to make the most of your onboard kitchen facilities and enjoy dinner floating in the sunset. Make sure to stock up on local produce in Patmos and have fun cooking your very own Greek meal! Alternatively, with a sailing charter holiday, you can
include a host
so you can relax and let them cook for you!
The Dodecanese islands provide a perfect opportunity for travellers wanting to explore nature, history, great food and ultimately unwind in the relaxed Greek way of life. To explore further parts of Greece and beyond and look into booking your own sailing charter, head to
The Big Sail
.