One of the best parts of a sailing holiday can be spending evenings in some incredible beach bars! There's no better way to spend an evening than sipping on a nice beer or cocktail in the sunset and sea breeze! Here are our 5 favourite beach bars around the world!
1. Soggy Dollar Bar, British Virgin Islands
Situated on Jost Van Dyke, the smallest of the main islands that make up the British Virgin Islands, this bar is the home of Caribbean rum culture! With their very own brand of rum, this bar serves incredible cocktails right on the sand. Soggy Dollar makes sure your evening will be fun with their famous Ring Game that was played onboard by Blackbeard and his crew, what's the prize for the winner? A free drink of rum of course!
2. Tropicana Club, Mykonos Greece
Locally referred to as 'the wildest party in the Aegean Sea', Tropicana Club is where travellers of the Greek Islands flock to let loose on the shores of Mykonos. Situated on the aptly named Paradise Beach, Tropicana Club is a restaurant during the day but once the sun sets the music takes over! However, if clubbing isn't your style they have an outdoors area on the beach where you can enjoy evening drinks and snacks.
3. Hula Hula Bar, Hvar Croatia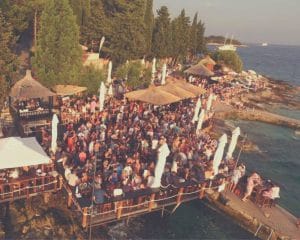 They describe themselves as 'a piece of heaven' and they aren't far off! Hula Hula is situated on the famously fun Croatian island of Hvar and allows you to chill on the beach with a cocktail during the day and party all through the night. They offer a 'rent a beach' service during the day where you can enjoy your own VIP table on the beach and an open air massage, just ask at the bar!
Enjoy a clifftop cocktail in the Greek Islands at Hydronetta! With incredible views, world class cocktails and amazing food, this is an amazing spot to spend an evening in the island of Hydra. They're open during the day and in the evening so whether you're after lunch with a view or sunset drinks over the sea, this is the place for you. Make sure to pack your swimming costume because you can take your drinks and climb down the rocks to the warm ocean below for a dip!
Ushuaia is known for its incredible parties, great VIP packages, and amazing food during the day! Known as the party island of the Balearics, You have the option to enjoy the music on the beach or party in their pool. Ibiza is a beautiful and fun place to explore and this spot is a must-see if you're after a good time!
If you want to enjoy any of these beach bars book your sailing holiday with The Big Sail here!