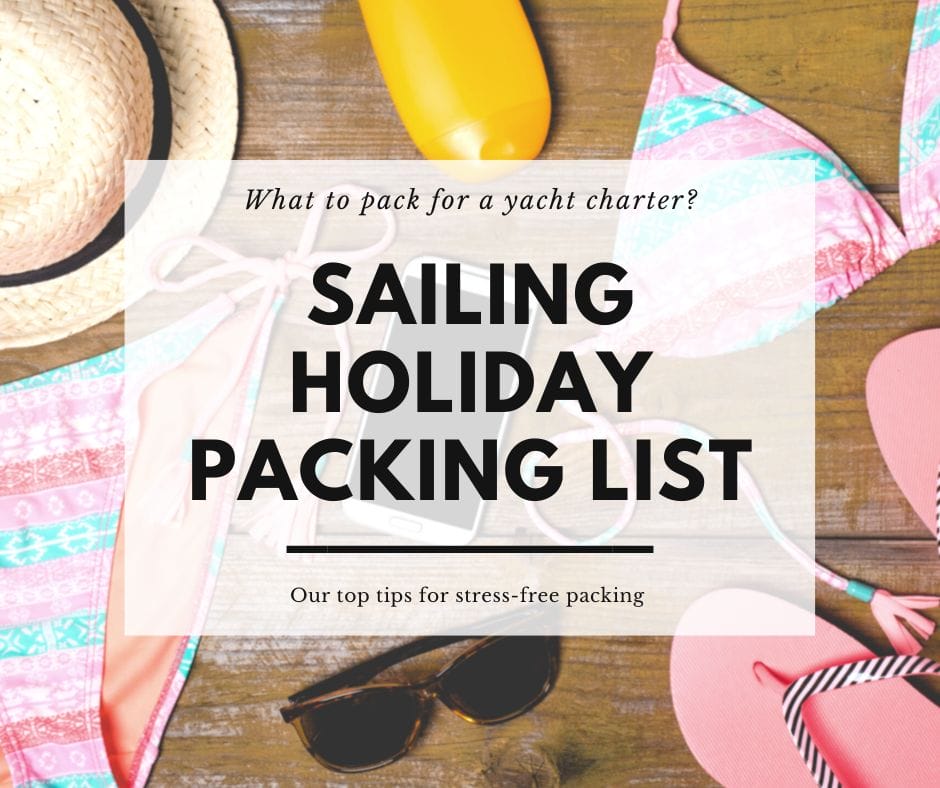 Yacht charter packing list
Charter yachts are designed to give you maximum living space onboard which often doesn't leave much space for personal luggage. Although there is a small amount of storage space in each cabin, you will have to share your personal space with some of the luggage or equipment you take with you.
Our top tip is to only take one soft bag per person (a duffel/hold-all is perfect) — hard suitcases are difficult to store and take up a lot of space. Just bring the essentials – if you can manage with just hand luggage, that will leave you with much more space onboard! 
Most basic requirements (cooking equipment, first aid kit, bedding, safety equipment) are provided so you will only need clothes, toiletries and your camera if you're bringing one.
The Essentials:
Passport & travel insurance
Cash in local currency (Euros in Greece, HRK in Croatia, or USD in the BVIs)
Any personal medication including anti-nausea medication if you get sea-sick
Clothing & everyday items:
Soft travel bag – avoid hard suitcases at all costs!
2-3 Swimming costumes/Board shorts
Underwear
4-5 T-shirts/polos/tops
1-2 pairs of shorts
Deck shoes (or shoes that won't mark the deck)
Flip-flops and/or sandals.
Trainers if you plan to go running or hiking
Toiletries/wash-kit/make-up
For the evenings (restaurants are casual):
2-3 Summer dresses
Shorts are fine in restaurants
1-2 casual shirts (or t-shirt/polos are also usually ok)
Deck shoes/flip-flops/sandals
Plan for the worst (it can get wet/chilly)
1 pair Comfortable lightweight trousers/jogging bottoms
Warm Fleece – evenings on the water can get chilly
Lightweight waterproof jacket – however sunny it looks, it can rain, especially in the Caribbean!
Everything else:
Sunglasses
Suncream (reef-friendly if possible) & aftersun
Swim/sunbathing towel (smaller towels for showering are provided, but we recommend bringing a bigger one for swimming or the beach if you have space)
A couple of head-torches (per boat, not per person!) – very useful for dinghy rides to and from restaurants in the dark!
12v phone charger (ie a car phone charger) and/or a battery pack
Camera/GoPro + chargers + country-specific adapters
A book and/or deck of cards for the downtime
Earplugs/eye-mask to help you sleep
A reusable water bottle
Fairy lights to help you find your boat when you've had a few cocktails!
Goggles or snorkel/mask (snorkels, masks & fins are often included free of charge or can usually be hired for a small fee with most charters)
Reef/swimming shoes – ideal for swimming to shore
What you won't need:
Heavy clothing like wool & denim takes a long time to dry
Hairdryers and straighteners – they won't work onboard
Bedding – it's all provided! We even include a small towel for showering, but you'll probably want an extra swim/sunbathing towel.
Additional Information
CAMERAS, PHONES AND PERSONAL GADGETS
You should take extra precautions to look after your phones and cameras onboard. Water, sunlight and salt can all damage electronic devices, and we recommend using a waterproof case or keeping your gadgets securely inside your luggage when not in use. Be careful not to leave your phone or camera lying around – once the sails are up the boat will lean to one side and your gadgets can easily slide off tables and ledges onto the floor.
ELECTRICITY AND CHARGING DEVICES ONBOARD
Power onboard your yacht comes from a 12V socket, just like in a car cigarette lighter socket. These can't be used to power heavy usage electronics as that could melt the electrics. This means no straighteners and no hairdryers whilst on board, although you will be able to use them in the on-shore showers and facilities in marinas and also when attached to 'shore power' in  some marinas.
The best way to charge a phone or camera will be to bring a car charger with a USB lead. Please bear in mind there will be only 1 or 2 sockets, with 7-8 people wanting to charge things, so you might want to consider turning your phone and other devices off to save power. There won't be signal or wifi coverage 100% of the time anyway! There will be a couple of standard round-pin sockets on boats in Europe or US-style sockets on boats in the Caribbean too if you need to charge anything else, but these only work when we are in a marina & plugged into the mains.