Scenic Greece
Corfu Sailing Holidays
A Corfu sailing itinerary lets you explore some of the most scenic bays and islands in Greece. Corfu is in the Ionian sea, which is known for being peaceful and serene with warm waters and mild winds on the whole. As a result, Corfu is the perfect destination for family yacht charters and beginner sailing holidays.
Sailing in the Ionian you will come across picturesque fishing villages, beautiful beaches and historic monuments including the Old Fortress in Corfu Town. Contact The Big Sail for your quote for the perfect family sailing holiday or group yacht charter.
SAMPLE ITINERARY
GET A QUOTE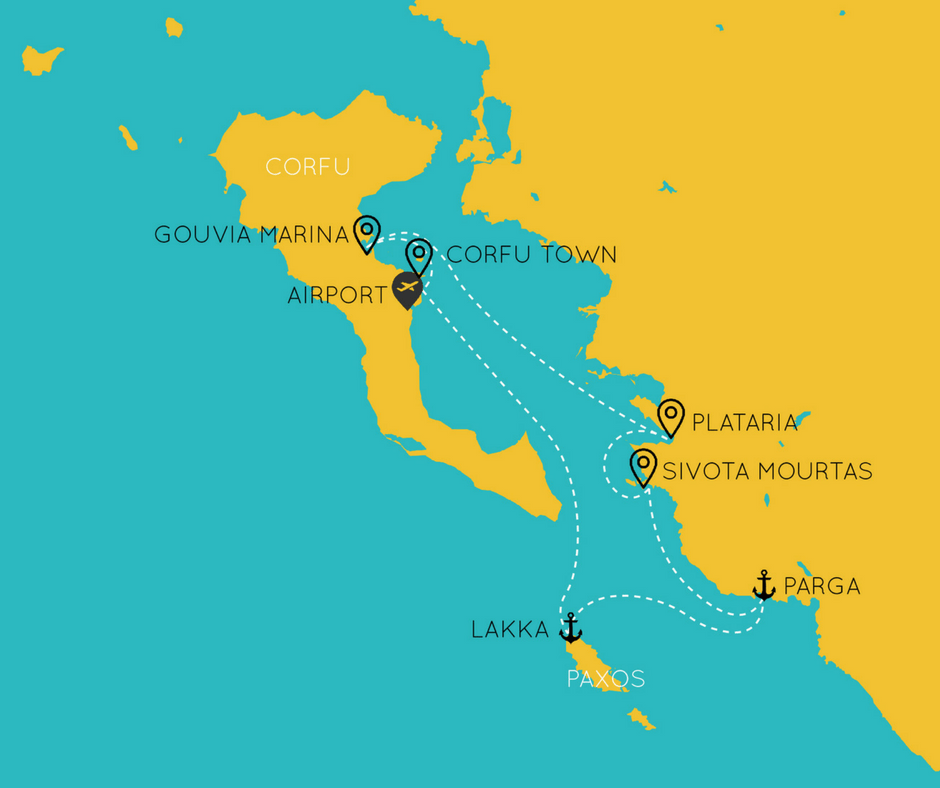 Arrival & check-in, Gouvia Marina, Corfu
Gouvia marina is one of the biggest marinas in the Ionian, and offers all the usual facilities that you would expect, including a mini supermarket to stock up your yacht for the week. The marina's location is perfect for accessing the north of the island and it's also only an hour's sail to Corfu Town itself. If it's your first time in Corfu, get a taxi into Corfu Town for dinner and to have an explore.
Corfu Town, Corfu
Corfu Town is a fantastic place to stop for the night, right at the base of the Old Fortress. Once you're moored up, walk through the fortress to access Corfu Town and explore the markets, shops and sights on offer. Enjoy dinner in one of the town's many fantastic restaurants.
Lakka, Paxos
Lakka is a quiet town with an idyllic anchorage, in the midst of crystal clear blue water. Go ashore in your dinghy to visit the town with plenty of small beaches, tavernas, cafes and boutiques. Enjoy dinner ashore, or cook onboard and dine under the stars
Parga, mainland Greece
Parga is a bustling harbour with bars, tavernas and coffee shops, and the sail from Paxos gives the opportunity to stop for lunch on Antipaxos, with crystal clear waters perfect for snorkelling and swimming. Also noted for it's impressive Venetian Castle which overlooks Parga.
Sivota Mourtos
A small and tranquil fishing village perched on the Greek mainland, opposite the south of Corfu. A great place to enjoy a selection of water sports activities in the afternoon.
Plataria
The sail to Plataria is only a short hop from Sivota Mourtos, which gives you lots of time to explore the Greek coastline, as well as the bustling harbour town with tavernas and cafes. Alternatively, if you are feeling ambitions, head north to Kassiopi which will take approx. 4 hours, and be sure to stop at Toula's Restaurant on Again beach along the way – it's worth it!
Return to Gouvia
Enjoy a final day onboard, exploring Corfu's beautiful coastline as you head back towards Gouvia. Our top tip is to sail further north than Gouvia marina towards Agni bay where you can drop anchor and go to a handful of beachside restaurants for your final lunch stop of the trip.
Check-out is at 9am Saturday morning – depart Corfu or begin your next adventure.
READY TO SET SAIL?
Get your tailor-made charter quote today
Choose any destination worldwide.
Yachts available to meet every budget, and any group size.
No experience required – we'll provide a skipper if you don't have sailing certification.
We'll create a tailor-made itinerary for your group including restaurant recommendations and anchorage tips.