Balearic Islands
Menorca Sailing Holidays
The Spanish archipelago of the Balearic Islands is an incredible spot for a summer sailing getaway! Just off the coast of mainland Spain, you will find this collection of stunning beaches and beautiful coastal towns that will make for the perfect Mediterranean escape!
A week-long sailing charter departing from Palma de Mallorca to Menorca will give you the opportunity to discover some of the hidden gems of the Mediterranean. The incredibly well preserved Cabrera will give you a chance to appreciate the naturally beautiful islands in their unspoilt glory, and the one of a kind Ciutadella will take you on a journey to explore unique history and culture! Contact us for your tailor-made yacht charter quote, we'll include a skipper if you need one plus a bespoke sailing itinerary for your group.
SAMPLE ITINERARY
GET A QUOTE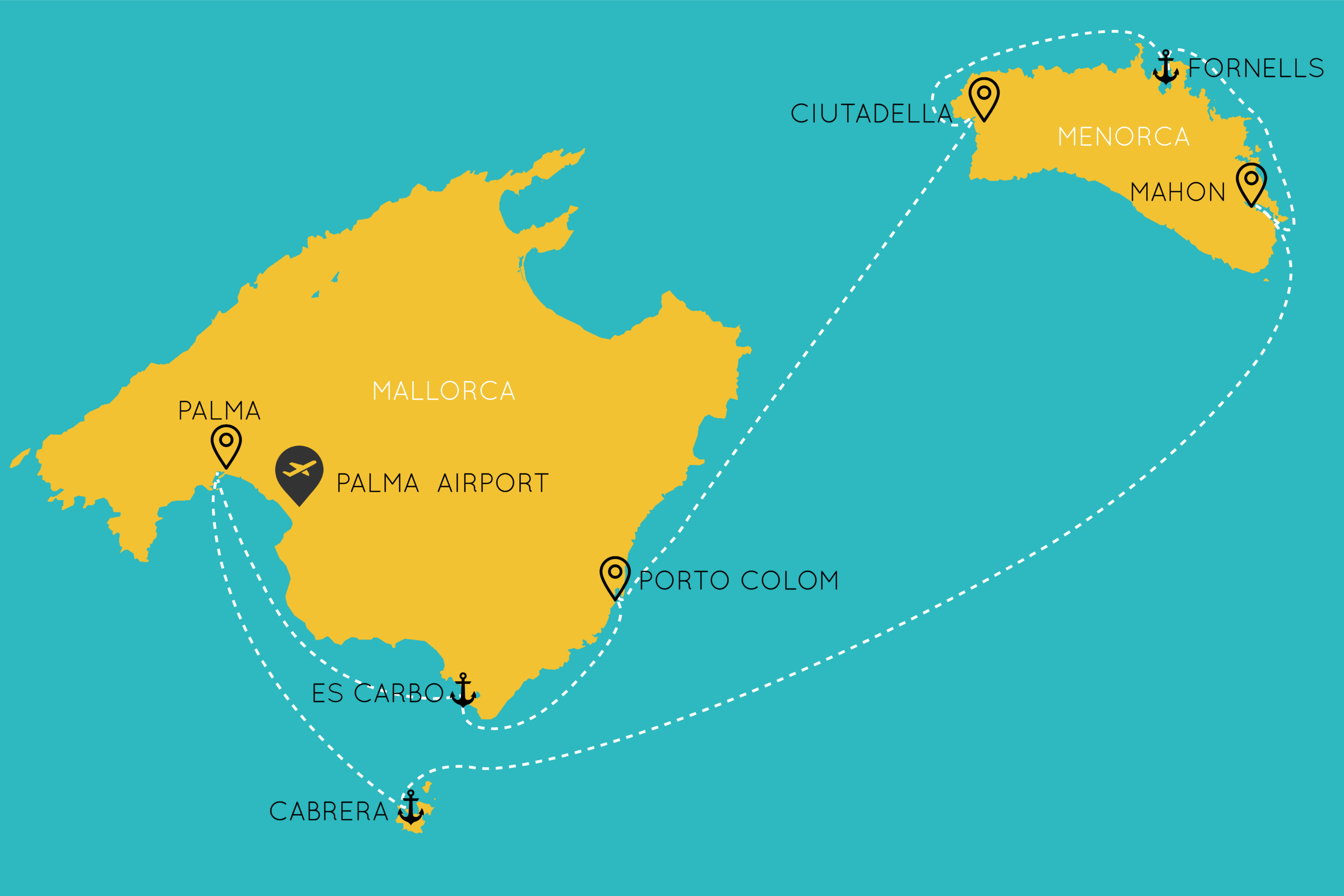 Arrival & check-in, Palma de Mallorca
Start your journey in the capital of the Balearic Islands, the stunning and historic Palma de Mallorca. Less than 5 miles from the airport, you will be able to step off your flight and into this stunning waterfront city in no time. Once you've checked in, leave behind the breathtaking coastal views (there'll be plenty of those still to come!) and set about exploring the winding cobbled streets that sprawl out from under the impressive Santa Maria Cathedral. You'll come across countless tapas bars, restaurants and cafes that will quickly settle you into the relaxed and fun Spanish way of life – don't get too carried away though, you have a week of adventures ahead of you…
Cabrera
Possibly the best preserved marine area on any of the Spanish coastlines, Cabrera feels like your own private oasis and is the perfect escape from the hustle and bustle of the nearby ports and fishing villages. Go hiking up to the lighthouse for some stunning views of the park, explore the historic Castillo de Cabrera or simply take this opportunity to relax in the calm Spanish waters.
Mahon
Arriving in Mahon you'll be greeted by the patchwork of terracotta coloured houses that make up the island of Menorca's capital city. Here you'll find an overwhelming amount of interesting things to do including a historic fort, many museums and galleries and even a gin factory! Spend a day wandering the buzzing streets before retiring in one of the many port-side bars and restaurants. 
Fornells
On day four you'll sail around the island of Menorca and past the beautiful Parque Natural de s'Albufera des Grau to reach the village of Fornells. The white washed buildings that make up the port contrast beautifully with the deep blue ocean and invite you invite you in to enjoy the many cafes and shops that this town thrives off of.
Ciutadella
Famous for it's buzzing fiesta-style nightlife, Ciutadella is a unique and fun spot to explore. You'll find Italian style architecture that surround the impressive Palacio Salort. With both a busy old town and stunning beaches, Ciutadella has something for everyone to enjoy during the day before meeting up to experience the renowned Spanish hospitality and nightlife.
Porto Colom
Enjoy a longer sail to the wide natural harbour of Porto Colom on the mainland of Palma. Overflowing with incredible locally caught seafood and famous Plá I Levant wine that dates back to the Roman Empire, this stop will be a highlight of the trip for food and wine lovers! 
Es Carbo
The last stop before returning to Palma de Mallorca is the unspoilt beach of Es Carbo. Make the most of your last chance to soak up the Spanish sunshine on the white sand beach or go for a swim and snorkel in the clear blue water.
Palma de Mallorca
Finally it's time to sail back to the stunning Port de Mallorca to say goodbye to the Balearic Islands. Take any spare time you have before you head home to explore more of what you have loved most about your charter. Whether it's discovering more about historical sites, delicious cuisine, or taking in the sea air on the marina – Palma de Mallorca has it all!
READY TO SET SAIL?
Get your tailor-made charter quote today
Choose any destination worldwide.
Yachts available to meet every budget, and any group size.
No experience required – we'll provide a skipper if you don't have sailing certification.
We'll create a tailor-made itinerary for your group including restaurant recommendations and anchorage tips.