Heart of the West Indies
St. Lucia Sailing Holidays
The stunning St. Lucia is truly at the heart of the West Indies, a collection of archipelagos that float peacefully in the Atlantic Ocean and Caribbean Sea. St. Lucia resides in the Caribbean portion of this region and tourists are drawn every year to the white sand beaches, colourful snorkelling, and excellent seafood cuisine that St. Lucia and the surrounding isles offers. Whether you want to barbecue lobster on the beach at Salt Whistle Bay, interact with sea turtle hatchlings at Old Hegg Turtle Sanctuary, or unwind in the thermal hot springs of Piton's Bay, The Big Sail can make sure you get the most out of your charter!
Whilst St. Lucia itself is an incredible holiday destination, we believe the best way to get the most out of your time is by having the ability to explore the surrounding isles as well; such as the beautiful Tobago Cays, famous for having some of the most stunning underwater wildlife in the world! With The Big Sail you will have your own yacht with all the trimmings to make your week as comfortable and fun as possible! You can chose whether you would like a professional skipper and host to take care of you, or just enjoy your privacy with a bareboat charter.
We believe that this route is the best way to see St. Lucia and surrounding islands - but that's just our opinion! As part of the booking process we can design a bespoke itinerary just for you, and we are more than happy to include any special spots you want to see on any days. Enquire today with one of our charter specialists about a sailing holiday around St. Lucia or any of our many other destinations across the world.
SAMPLE ITINERARY
GET A QUOTE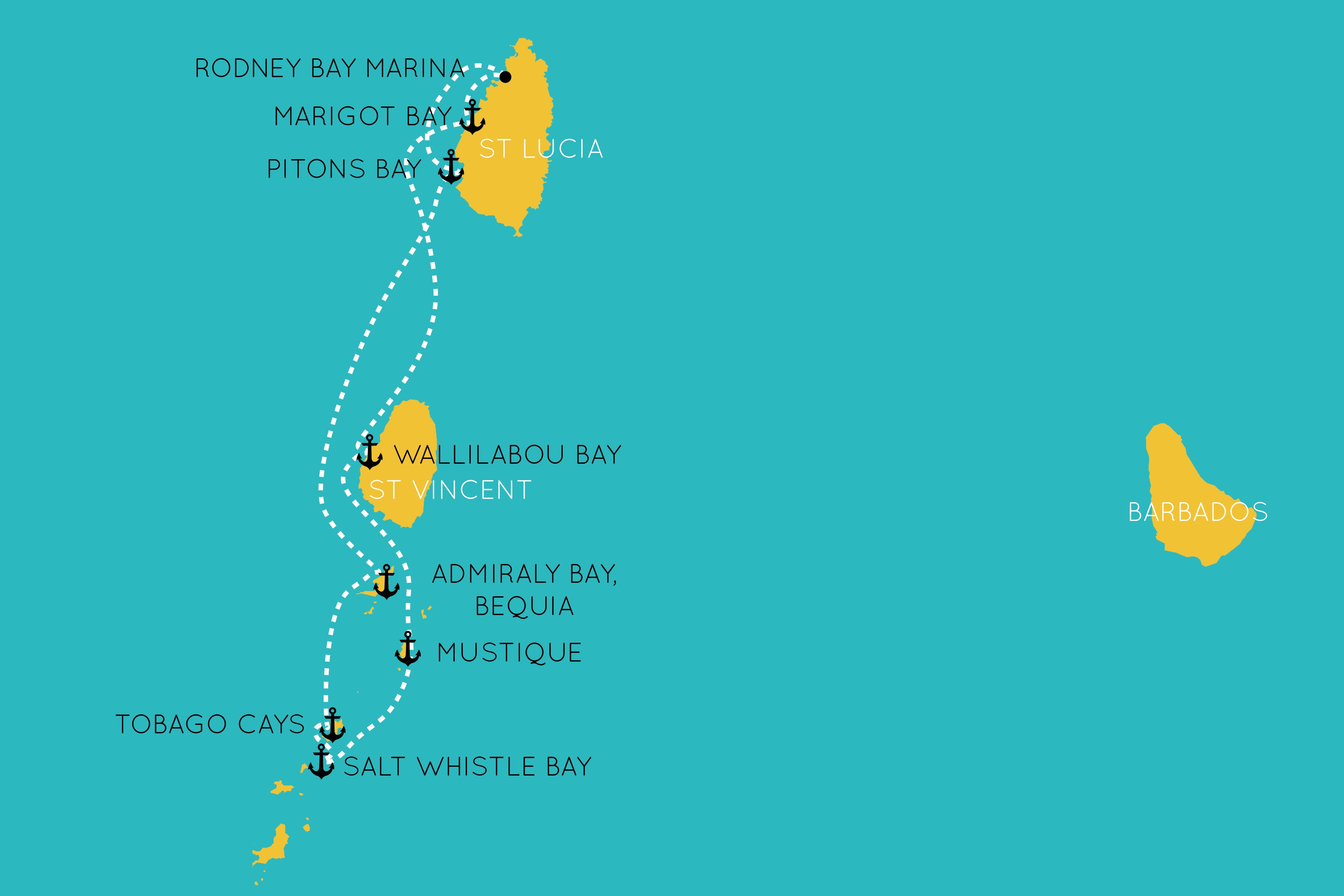 Check-in at Rodney Bay and short sail to Pitons Bay
The lively harbour overlooking the expansive and beautiful Rodney Bay is a great spot to acquaint yourself with the Caribbean! Nestled amongst the lush greenery of the rolling hills of St. Lucia, here you will find bustling streets littered with excellent places to eat, drink, and shop. After a short sail to Pitons Bay you'll be able to relax into the Caribbean sun in the volcanic hot springs and get ready for your coming week of fun and relaxation.
Admiralty Bay
On day two, you'll depart the isle of St. Lucia and float south through the stunning Caribbean waters until you arrive at the beautiful island of Bequia and are welcomed into Admiralty Bay. This island is home to the Old Hegg Turtle Sanctuary – an absolute must-see for any wildlife lover! Here you can get up close and personal with sea turtle hatchlings and learn more about the amazing conservation work that is being done to help these creatures. The bay has a wealth of restaurants to choose from once you're ready to retire from turtle spotting, snorkelling, or sunbathing.
Tobago Cays
Continue to explore the Caribbean's incredible wildlife at the Tobago Cays Marine Park. This is one of the best spots you'll come across for colourful snorkelling and scuba diving. Moor up and take your dinghy to the tiny Baradal Island to meet the iguana population that inhabit this oasis. Several of the islands that make up the Cays have relaxed spots to dine in, however if you're wanting to dine onboard we recommend anchoring at the uninhabited Petit Nevis to guarantee an uninterrupted evening.
Salt Whistle Bay
On day four you'll sail back to reality with the traditional village of Salt Whistle Bay on the island of Mayreau. Here you'll be greeted by white sand beaches and a town that oozes with quaint Caribbean charm. Salt Whistle Bay is famous for incredible seafood and the locals regularly barbecue locally caught lobster right on the beach! This is a great way to dine like the locals, but if you want something more refined there are a variety of restaurants and bars to enjoy.
MUSTIQUE
The luxurious island of Mustique is the Caribbean playground of celebrities from Mick Jagger to Tom Ford and it's easy to see why! The azure waters and lush surroundings create an oasis like feel that you can fully relax into in one of the many upscale bars or restaurants, or simply by taking a stroll along the aptly named Lagoon Beach.
Wallilabou Bay, St. Vincent
As you approach the island of St. Vincent you will encounter some of the clearest waters in the Caribbean, making Wallilabou Bay a favourite spot for snorkelling lovers! Spend your day exploring the underwater caves and reefs that are bursting with wildlife and see if you dare to swim out to the natural rock arch. When it's time to hang up your goggles for the evening, retire into one of the seafront cafes or restaurants.
Mariogot Bay, St. Lucia
The volcanic soil that sustains this part of St. Lucia fertilises some of the most stunning vegetation in the Caribbean. As you arrive in Mariogot Bay prepare to be blown away by cascading hills that are bursting with colourful flora and staggering palm trees. This stunning and restful spot is the perfect last stop before your return to Rodney Bay in the morning so make the most of tranquility and be sure to get a great vantage point for the famously stunning sunset over the bay!
Return & check out, Rodney Bay, St. Lucia
Finally it's time to sail back to stunning Rodney Bay for your last evening with The Big Sail. Take this last day to explore more of what you have loved most about your charter. Whether it's enjoying the cuisine, snorkelling and diving, or just simply taking in the sea air on the harbour – Rodney Bay has it all!
READY TO SET SAIL?
Get your tailor-made charter quote today
Choose any destination worldwide.
Yachts available to meet every budget, and any group size.
No experience required – we'll provide a skipper if you don't have sailing certification.
We'll create a tailor-made itinerary for your group including restaurant recommendations and anchorage tips.